Exchange Zethyr Swap Aggregator Binance BSC
Zethyr Swap Aggregator - a TRON decentralized exchange that distributes 100% of the income to the community.
Contents: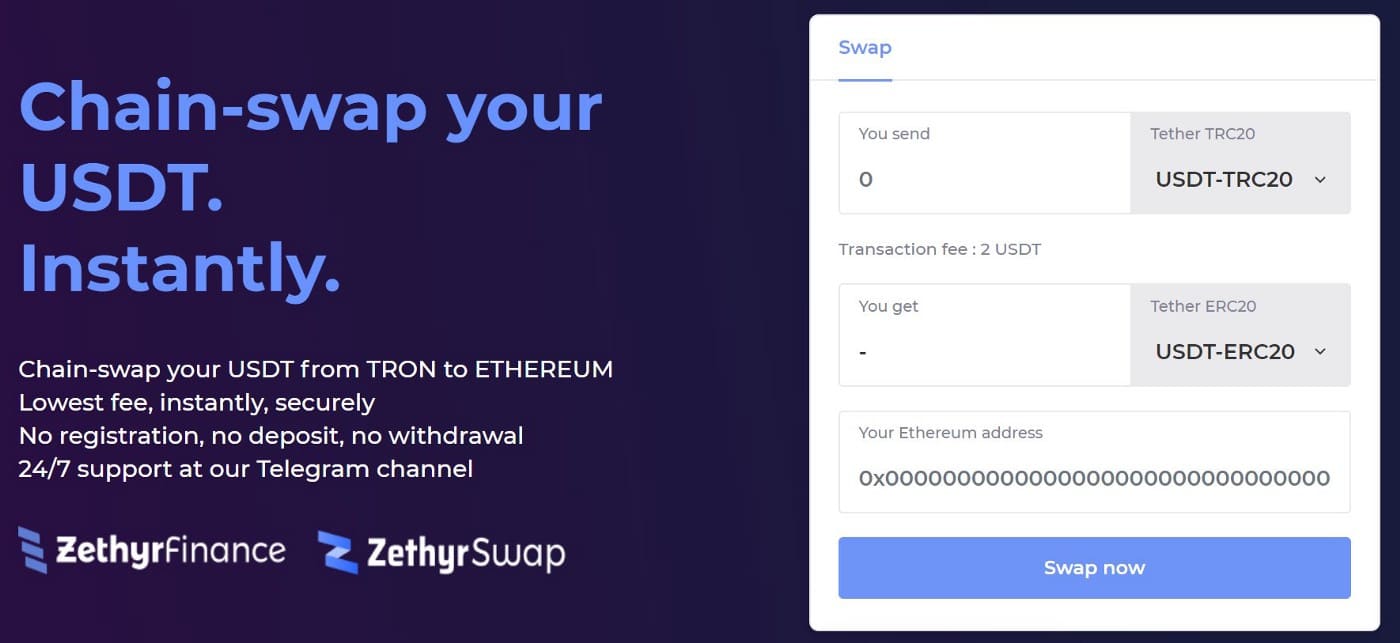 Description of the Zethyr Swap Aggregator
Zethyr Swap Aggregator - an instant, safe and inexpensive tool to help you to exchange your USDT on-chain between TRON and ETHEREUM.
At the beginning, the company will only facilitate the exchange of the TRON to ETHEREUM chain, but more pairs and directions will be presented, based on your feedback.
Zethyr Swap Aggregator
The latest update of the project introduces the following innovations:
users can add Binance liquidity to WIN / TRX and BTT / TRX pairs;
the emergence of new trading pairs WIN / USDT, BTT / USDT and TRX / USDT, which are also linked to the liquidity of Binance;
the ability to trade on other exchanges, such as Huobi and Poloniex.
Moreover, various bugs have been fixed to improve the performance of Zethyr.
Platform economics
ZTR-token - a unique and fully decentralized token on the TRON blockchain. The game coin can only be mined through trades on Zethyr. There is also EcoPower on the project. How does it work:
| | |
| --- | --- |
| 1 | It is intended for $ ZTR token holders who would like to benefit from the exchange's economic benefits passively. |
| 2 | Holders of $ ZTR can stake their $ ZTR on EcoPower 1: 1. |
The Zethyr app enables Dapp token holders to borrow TRX by simply collecting their tokens. For each token, the dapp on Zethyr is the corresponding daily percentage and liquidation rate. Borrowers of tokens must deposit their tokens as collateral before they can borrow. In order to maximize return for depositors, Zethyr will combine the following strategies:
lending to other Zetirians who need to borrow;
staking on dapps to earn rewards for participating in auctions..
Also add deposit to other financial protocols for rewards. Run by the TRON smart contract, Zethyr cannot be stolen by anyone, including the project's developers. Each transaction runs on the TRON blockchain, providing absolute transparency for everyone and signed with a unique private key, unknown to other users. The combination of transparency and a unique private key ensures maximum safety and transparency of every transaction.
Additional information
Instead of WhitePaper and RoadMap documents, the site provides instructions for working with the project, as well as a list of the main features. From social networks, only telegram are available. You can subscribe if you want to stay updated on the news. No smart contract audit presented.
Exchange Zethyr Swap Aggregator Binance BSC Statistics