In July, the cryptocurrency market as a whole experienced a bearish trend; however, several altcoins demonstrated significant growth, allowing them to overcome the unfavorable situation. In August, the following five tokens deserve attention.
On August 2, a long-awaited event took place in the Litecoin (LTC) network - halving. Horizen (ZEN) and ICON (ICX) will launch important testnets. Tezos (XTZ) is preparing for a major event, and Ultra (UOS) will introduce a new gaming platform. All these potential diverse developments may attract interest and activity to these projects in August.
Contents:
Price growth expected after Litecoin (LTC) halving
When Litecoin first appeared, miners received a reward of 50 LTC for each mined block. However, after the mining of 840,000 blocks (approximately once every four years), the reward size was halved. This event is known as halving and is undertaken to combat inflation until there is no reward for a block.
| Parameter | Value |
| --- | --- |
| Price | $91.50 |
| Market Cap | $6.65 billion |
| Rank | #12 |
Prior to this event, LTC's price showed bullish signals, breaking out of a descending wedge observed on the chart since July 3. Breakouts from such structures often lead to significant upward movements. However, soon after the breakout, LTC's price retraced to levels preceding the event.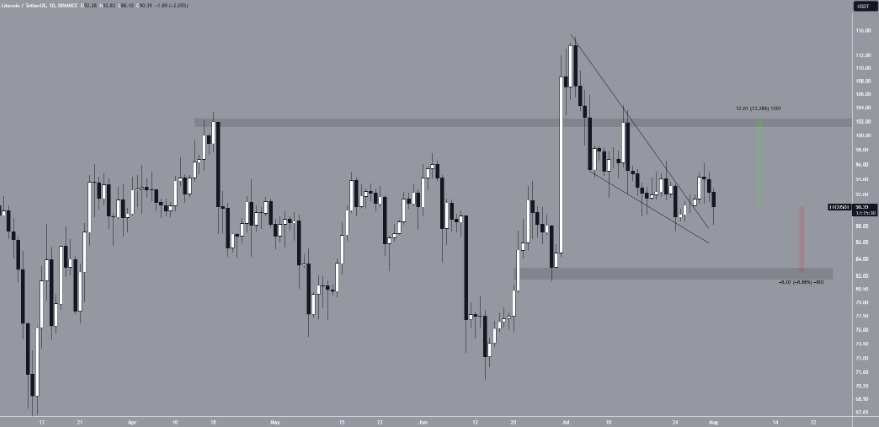 If the token continues its upward trend, the next key resistance is at $102, exceeding the current price by 13%.
However, the bullish breakout will be canceled if LTC's price falls below the breakout level of $90. In that case, a price correction down to $82 is possible, constituting a 9% decrease.
Icon (ICX) launches testnet
Since July 31st, ICX has launched the XCall Incentivized Testnet, offering incentives to community participants for active involvement in developments. The primary focus of the testnet is on testing functionality, decentralized applications, and tools. Substantial contributions to the work can reward up to 845,000 ICX.
Price: $0.22
Market Cap: $211.9 million
Cryptocurrency Ranking: #158
Technical analysis shows that on June 22nd, the ICX price broke through a descending resistance line, which was considered a bullish signal. However, despite this breakthrough, the price was unable to surpass the horizontal resistance area at $0.25. Instead, it rebounded twice from this level, forming lower highs (red icon). This is a bearish signal, indicating the possibility of a false breakout.
Therefore, to confirm a bullish trend for ICX, the price needs to rise above the resistance level at $0.25. Until this happens, the trend is considered neutral or bearish.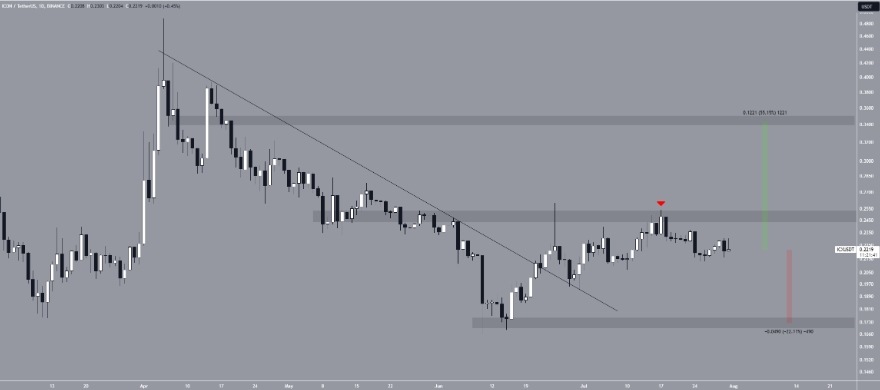 If ICX successfully overcomes the current resistance and reaches the $0.55 mark, it could lead to a significant growth of 55%. Otherwise, a bull failure may cause a price decline of 22% to approximately $0.17.
Horizen (ZEN) announces the launch of a new testnet
The upcoming mandatory software update, ZEN 4.1, will result in the discontinuation of shielded pools support on the main Horizen network. As a result of the update, confidential transactions at the consensus level will become unavailable, making the ZEN token non-anonymous.
| Parameter | Value |
| --- | --- |
| Price | $9.49 |
| Market Cap | $132.7 million |
| Rank | #211 |
The estimated update release schedule is as follows:
Testnet: August 2023
Mainnet: September 2023
Similar to the ICX price dynamics, the price of ZEN also broke above a descending resistance trendline. However, it faced significant horizontal resistance around $9.45, which proved to be difficult to overcome. The price has retraced from this level three times recently, resulting in long upper wicks on the chart (red markers).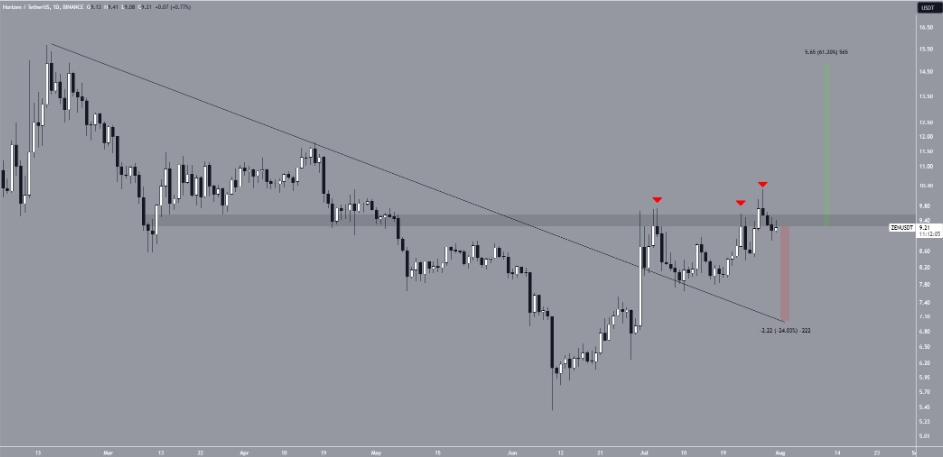 ZEN token has encountered consistent resistance at this level, but there have been successful attempts to break above it. However, a new pullback is possible, leading to a price decline to the descending support trendline at $7, which is 25% below the current price.
On the other hand, if the coin manages to overcome the resistance and successfully break through, a significant growth of 60% is expected, with the price reaching $15. Currently, the prospects support a bullish momentum for ZEN due to the upcoming testnet.
Tezos organizes an event
Price: $0.84
Market Cap: $797.8 million
Cryptocurrency Ranking: #57
On August 2nd, Tezos organized an event in London featuring a DeFi seminar focused on decentralized exchanges and liquidity provision.
In early July, the price of the XTZ cryptocurrency broke above a descending resistance trendline. Typically, such breakthroughs are accompanied by significant growth, but in the case of Tezos, this did not happen. Instead, the token slowed its growth and has been trading around the breakout level.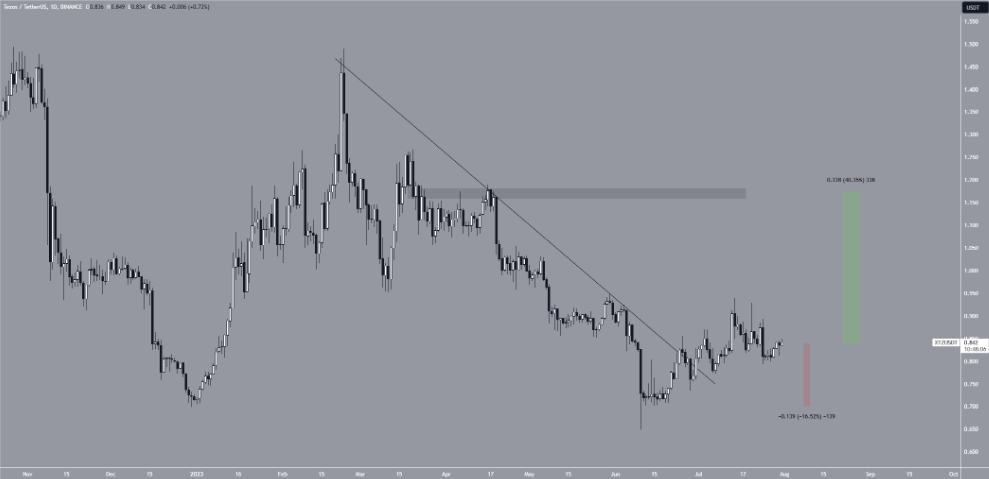 If the growth process does not resume, XTZ may decline to the yearly minimum at $0.70, which is 17% below the current price level. On the other hand, if the positive momentum continues, the cryptocurrency's price may strengthen by 45%, reaching the next resistance level at $1.20.
Ultra (UOS) presents a new gaming platform
On August 8th, the Ultra Arena will launch, an online platform for organizing tournaments, giving gamers the opportunity to compete with their friends in their favorite games and win various prizes. The Arena will be accessible on Ultra, which could be an important catalyst for UOS token growth. Currently, UOS is approaching its yearly minimum at $0.17, and the upcoming launch may support an increase in its value.
| Parameter | Value |
| --- | --- |
| Price | $0.17 |
| Market Cap | $47.2 million |
| Cryptocurrency Ranking | #426 |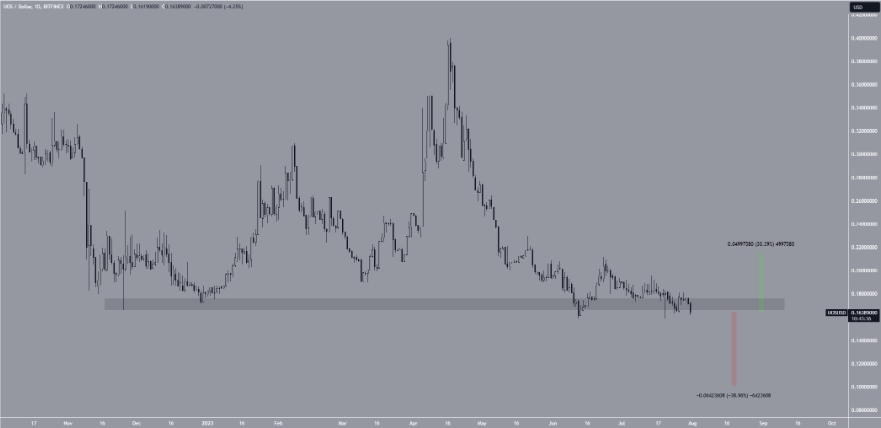 If this breakout of the bearish trend is confirmed, it could lead to a 40% price decrease until reaching the nearest support level at $0.10. Alternatively, with a possible bounce, UOS may experience a 30% growth.